Voucher
Surprise someone with a voucher guaranteed to give them the sweetest of surprises.
At the Lindt Home of Chocolate, visitors discover many fascinating facts about humankind's favorite treat and are given the chance to create their own chocolate together with a real Lindt Master Chocolatier. During the interactive chocolate tour, you can journey back to the origins of chocolate and find out how cocoa conquered Europe.
Chocolate tour - Single tickets
An interactive journey of discovery
In our museum, you can journey back to the origins of chocolate and experience how cocoa conquered Europe. Meet the Swiss chocolate pioneers who made our lives sweeter with their inventions. Follow the chocolate manufacturing process in our modern test facilities. And find out just how irresistible Swiss chocolate is for yourselves.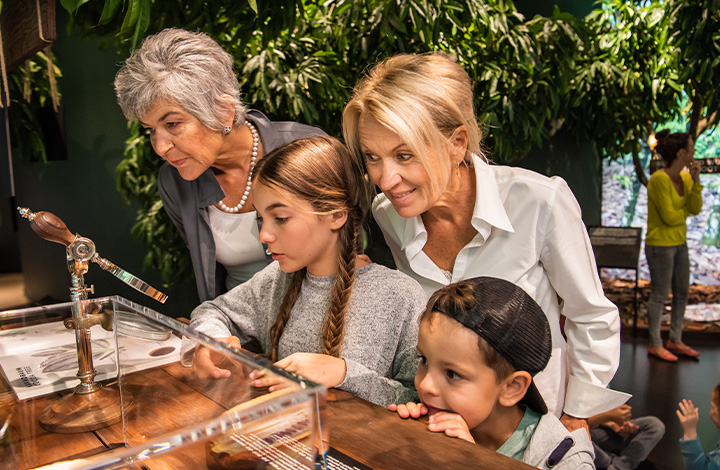 Public guided Tour
«CHOCO-DELUXE»
On this 90-minute guided tour, you will gain further insights into the world of cocoa and the production of chocolate. We will show you how the cult drink of the Mayans became a luxury drink in Europe, and ultimately chocolate for ordinary people everywhere. In addition to the tasting stations in the exhibition and the finest pralines to sample with our Lindt Master Chocolatiers, we also offer you the exclusive opportunity to taste ingredients and preliminary products of chocolate production. Dive into the world of chocolate.
Chocolate courses: creative with all your senses
Make your own precious chocolate bars
In diesem Kurs giessen Sie Ihre eigene Schokoladentafel und verzieren sie genauso, wie es Ihnen schmeckt. Dabei entscheiden Sie selber, ob Sie helle Milchschokolade oder dunkle Surfin-Schokolade wählen. Während die Tafeln auskühlen, werden Sie von einem unserer Lindt Maîtres Chocolatiers durch ein Schokoladen-Tasting geführt.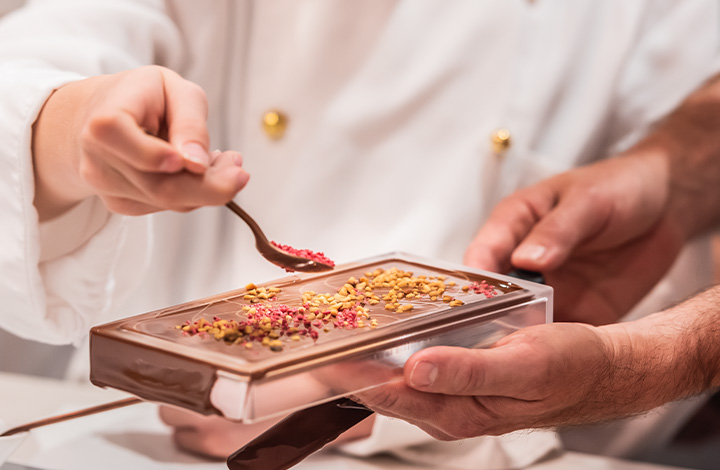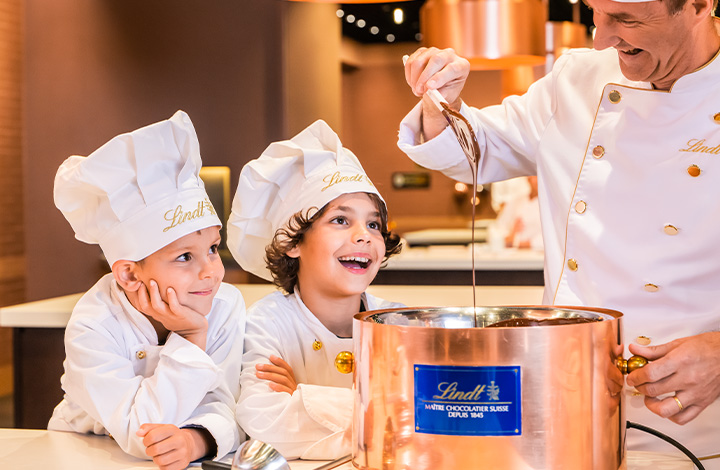 Chocoalte course: molding and refining
Make chocolate lollipops and figures yourself
In this course, you will create small chocolate treats that you can take home with you. First, you and your group will be immersed in the world of chocolate with an exciting introduction.